MARVEL MADNESS #5: AGENT CARTER S2, AGENTS OF SHIELD S3, NEW AVENGERS, CIVIL WAR SET, AND MORE
So this week's Marvel Madness we talking renewals for both Agent Carter and Agents of SHIELD, our first look at the New Avengers, a gargantuan amount of Civil War set photos, possible Captain Marvel and Black Panther directors, and of course rumours and other stuff!
LET'S GET CRACKING!!!
Agent Carter Season 2:
"Dedicated to the fight against new atomic age threats in the wake of World War II, Peggy must now journey from New York City to Los Angeles for her most dangerous assignment yet. But even as she discovers new friends, a new home — and perhaps even a new love — she's about to find out that the bright lights of the post-war Hollywood mask a more sinister threat to everyone she is sworn to protect."
Agents Of S.H.I.E.L.D. Season 3:
"Director Phil Coulson (Clark Gregg) embarks on a deadly new secret mission to protect the world from new threats in the wake of SHIELD's wars with Hydra and a rogue faction of Inhumans."
Agent Carter will once again fill Agents of S.H.I.E.L.D.'s time slot while the latter series is on mid-season hiatus.
As Marvel's Avengers: Age of Ultron continuously dominates at the box office both domestically and globally, the many visual effects companies that contributed to the superhero sequel are now showing off their incredible work. We have some before/after shots that include an official look at the new costume designs for the Falcon, Scarlet Witch, War Machine, and the Vision that might carry over into Captain America: Civil War.
Furthermore, we also have some official Age of Ultron stills showcasing the Iron Legionnaires by VFX studio Trixter, as well as Perception's main-on-end title sequence, which featured a sweeping shot of the super cool monument of Earth's Mightiest Heroes in battle with Ultron.
Before the opening of Age of Ultron, Whedon spoke to
Hero Complex
regarding the enormity of the project and the pressures that came with it. So, what most took its toll on the writer/director?
"The weight of the thing, the weight of the last thing, of this not just being the next thing that happens — I wanted this film to be its own movie. I wanted it to be better, if possible, than the first one — not that the first one was the best movie ever made, but I wanted to do better, just be better at shooting. I wanted to work harder on the script. I wanted to spend more time just really working every aspect of it, because why go again if you're not doing something new?"
Indeed, that desire to do something new and unique has not always gelled with Marvel execs – just ask Edgar Wright. But even more so than Marvel's head honchos, the main voice pressuring Whedon was apparently his own:
"I heard that voice in my head every time, 'But is this a great idea?' And suddenly I had doubt that I don't usually suffer from. And meanwhile, the studio's gonna have some too, because everything's riding on this all of a sudden. And it became a problem in a way that nothing else has. And it was a hard movie to make on top of that. So being paralyzed by either indecision or the weight of responsibility? Not useful, don't have time for your paralysis, son, snap out of it. This was the hardest work I've ever done… it a little bit broke me.
According to
The Wrap
, Marvel are eyeing Ava DuVernay to direct one of their upcoming diverse superhero movies. Those are obviously Black Panther and Captain Marvel, and insiders indicate that it's the former which is currently the most likely possibility. That's set to be released in 2018, a little sooner than Carol Danvers' big screen debut, possibly explaining why Kevin Feige is looking to land the Selma director. She also has a credit for "promotional services" on Spider-Man 2.
They add that there is mutual interest on both sides, but Marvel is still considering other filmmakers. A woman has yet to direct a superhero movie, and the fact that DuVernay is both non-white and non-male would earn some serious PR points for them. That aside though, DuVernay is a great director who received almost unanimous critical acclaim for her work on Selma.
Variety
reports that there's still hope for ABC's next spinoff of "Marvel's Agents of SHIELD." Despite recent reports that the spinoff series (which was confirmed to be in early development this April) is dead, ABC Entertainment Group president Paul Lee says there is still a possibility for the project.
On Tuesday's conference call ahead of the network's Upfront presentation in New York, Lee raved about "SHIELD" and "Agent Carter," which returns midseason with Season 2, revealing, "it certainly is a possibility of spinning them off."
The spinoff was rumored to focus on Adrianne Palicki's Bobbi Morse and Nick Blood's Lance Hunter, and Lee admitted, "We absolutely love those characters on 'SHIELD,'" so much so that they didn't want to mess with success by attempting a spinoff at this point.
"SHIELD" has been a solid performer for ABC in ratings, and the eight episodes of "Agent Carter" maintained the show's momentum during its winter break.
Lee also gave vague details about "American Crime" creator John Ridley's highly classified Marvel project, saying "I can't talk about the John Ridley one, other than to say that he's working on it."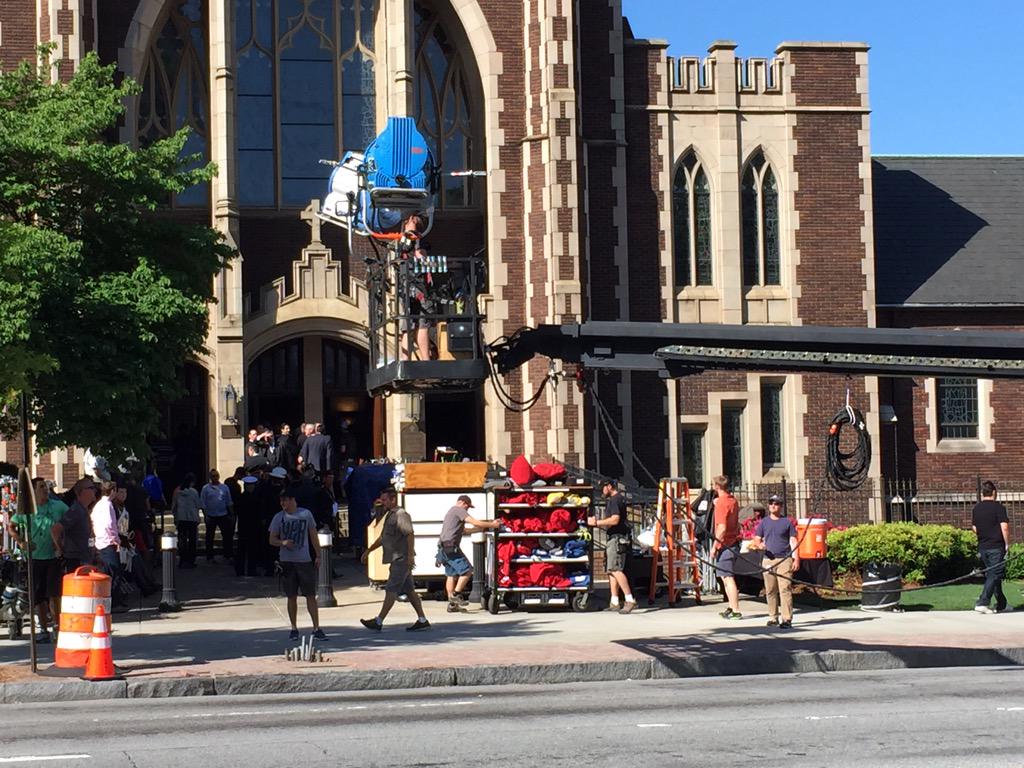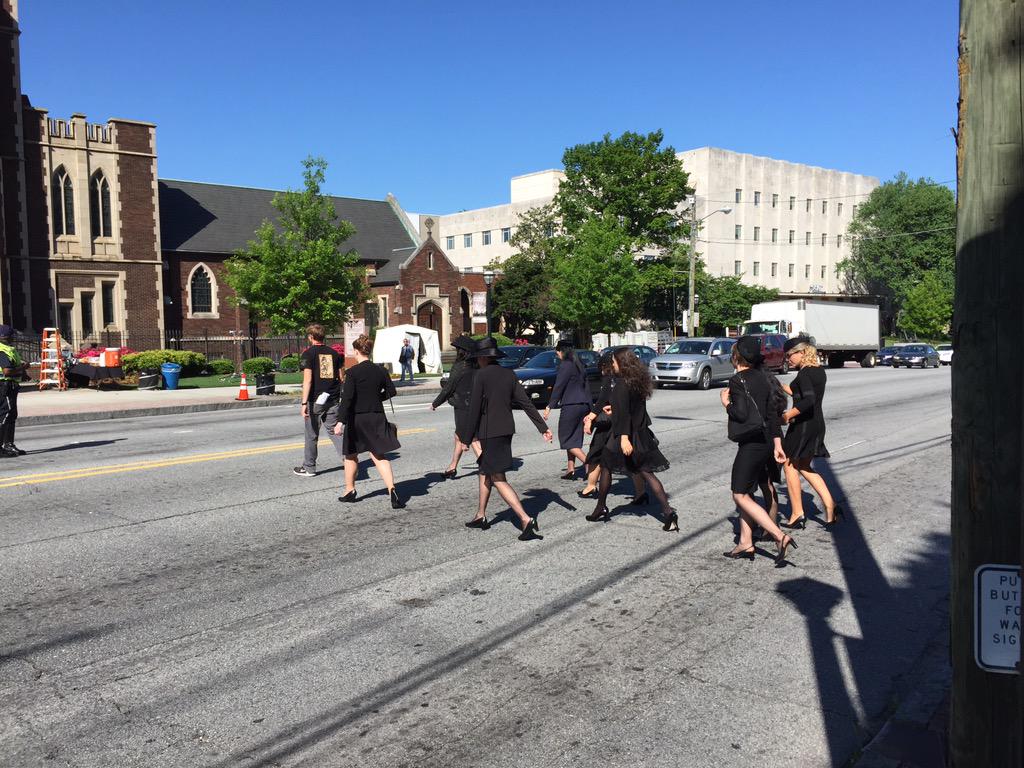 Thanks to
Just Jared
, we finally have a good first look at Chris Evans (Steve Rogers), Emily VanCamp (Sharon Carter), and Anthony Mackie (Sam Wilson) as the stars were filming two seperate scenes yesterday in Atlanta, Georgia, for Marvel Studios' highly-anticipated Captain America: Civil War.
As previously reported, Evans and VanCamp took part in scenes involving a funeral that's set in London, which makes us think that it's for Hayley Atwell's former S.H.I.E.L.D. agent Peggy Carter. Of course, we won't know for sure until next summer. Meanwhile, the leading man and co-star Mackie were also spotted filming a different scene together at an unknown location. Anyhow, check it out!
CA: Civil War | Set Photos | 1
Even more Captain America: Civil War set photos thanks to
Just Jared
, and which seemingly reveal why Chris Evans (Steve Rogers) and Anthony Mackie (Sam Wilson/ Falcon) are in full costume for today's scenes in Atlanta, Georgia an African village. That's right, actor Frank Grillo, who is reprising his Captain America: The Winter Soldier role as Brock Rumlow aka Crossbones in a much larger part, has now been spotted in full costume.
CA: Civil War | Set Photos | 2
In addition, the Daily Mail has provided more shots from the funeral scenes in which Chris Evans is still dressed in all black while helping to carry the casket. We also have our first photos of Scarlett Johansson's Black Widow( It appears directors Anthony & Joe Russo have given Black Widow long hair again following her shorter 'do in Avengers: Age of Ultron), who it seems was also attending the funeral which is more than likely for Hayley Atwell's Peggy Carter.
CA: Civil War | Set Photos | 3
Thanks again to
Just Jared
we see Scarlett Johansson's Black Widow heading into action (or escaping it) after some sort of scuffle, but where this will fit into the threequel remains to be seen.
CA: Civil War | Set Photos | 4
Once again thanks to
Just Jared
, we have even more images of Captain America wielding something, and another shot of Crossbones and The Falcon.
CA: Civil War | Set Photos | 5
And last but not least we have 4 set photos of Scarlet Witch herself, Elizabeth Olsen!!
Marvel's "Avengers: Age of Ultron" pases the billion-dollar mark 24 days after its global release! This marks the third time a Marvel Studios film has crossed this milestone and makes it the highest grossing film of 2015, domestically.
"Avengers: Age of Ultron" started hitting theaters on April 22 and debuted at #1 in all territories! In the U.S., it achieved the second biggest opening weekend of all time with $191.3M, behind only "Marvel's The Avengers," and in Brazil, Mexico, Hong Kong, Philippines, Ecuador, and Bolivia, "Avengers: Age of Ultron" had the biggest opening weekend ever.
RUMOURS
We'll meet Chadwick Boseman's Black Panther for the first time in Captain America: Civil War next year, but Marvel are already looking for a director to helm T'Challa's 2018 solo movie. It sounds like Ava DuVernay is a strong contender, but now another name may have entered the mix, and once again, it appears as if Kevin Feige is going to make an unexpected and interesting choice.
According to El Mayimbe (via
Twitter
), it sounds like Marvel have met with Dope director Rick Famuyiwa. It's strictly a rumour for now of course, but the studio is known for hiring lesser known (i.e. cheap) filmmakers who have impressed critics and moviegoers with TV shows or smaller films. Famuyiwa is a native of Nigeria, and the buzz around Dope has been good, so it's well worth keeping an eye on this.
It's hardly a spoiler to say that superheroes will fight in next year's Captain America: Civil War, but a new rumour details a specific battle between one fan favourite character and another who will be introduced to the MCU for the first time next year.
It's nothing too revealing of course, but it is interesting to wonder what will lead Hawkeye (Jeremy Renner) and Black Panther (Chadwick Boseman) to come to blows in Captain America: Civil War next year. For example, whose side will they each be on? Now that we know he has a family - who he wants to keep secret - my guess is that Clint will side with Steve, but we'll just have to wait and see.
Will the Green Goliath be smashing his way into Captain America: Civil War along with the rest of his Avengers team-mates? That's certainly seems to be what Mark Ruffalo is suggesting with both the Tweet below and this Instagram post, but it's always possible he's just having a bit of fun or welcoming the new cast members to the MCU. Then again, it seems odd that he'd wait a full week after the announcement just to do that.
— Mark Ruffalo (@MarkRuffalo) May 14, 2015
The full casting announcement for Captain American: Civil War confirmed the long standing rumours of Paul Rudd and William Hurt appearing in Civil War, with Rudd of course returning as Scott Land and Hurt reprising his role as General Thaddeus "Thunderbolt" Ross, last seen in The Incredible Hulk. But these confirmed castings also lend credibility to a
rumour
from last year concerning their roles in Civil War, as well as Hurt appearing in Ant-Man. Because it's an old rumour it's worth revisiting in light of this new confirmation.
Spoiler Warning: Possible heavy spoilers for both Ant-Man and Civil War ahead.
Given it's a superhero movie, we can safely assume that Scott Lang is successful in stopping Darren Cross's evil plan in Ant-Man (whether or not this involves Cross actually being killed, or perhaps banished permanently to the microverse ready to return in future installments, remains to be seen). Normally, I wouldn't count out Hank Pym's character biting it to create some emotional pathos for our characters, but a rumour last year also provides details about a possible post-credit scene involving Pym, as well as how Ant-Man fits within the tapestry of the larger Marvel Universe. Apparently the events of Ant-Man take place in the same time frame as Avengers: Age of Ultron, rather than after it, but the post-credit scene catches us up with the aftermath of Age of Ultron. According to the report, the post credit scene involves General Ross (played by Hurt) reaching out to his old colleague Hank Pym, on behalf of Tony Stark. When Pym asks Ross why Stark needs him, Ross allegedly responds, "Haven't you seen the news? We're at war." Now, this doesn't quite fit into the end of Age of Ultron – things are relatively peaceful when the credits roll – but perhaps futurist Tony Stark is predicting the Civil War to come, and wants Pym on his side. The report also suggests that Tony is reluctant to use his own technology after the disaster that was Ultron, and so requires the military aid and scientific expertise of Ross and Pym.
The report also features a hint about both Black Widow's role in Civil War. The report confirms early rumours that Black Widow's role in Civil War will be a relatively small one, with Widow "arrested for aiding fugitive superhumans in a power play by Stark." A smaller role for actresses Scarlet Johansson makes a great deal of sense. Not only are there an absurd number of characters appearing in Civil War –there are thirteen returning characters, plus the introduction of Black Panther, Baron Zemo, Everett Ross (likely), and of course Spider-Man – but she also has a nine-month old child and an incredibly busy 2016 lined up. Johansson is scheduled to start shooting Ghost in the Shell in January or February of next year, followed by Avengers: Infinity War Part 1 & Part 2 later that year, which will reportedly film for approximately nine months.
Finally, the report goes on to suggest that Ant-Man may be brought into the Avengers film in a jail break sequence freeing Black Widow. The source suggests this would take place in a future Marvel film, but given Ant-Man's confirmed appearance in Civil War it seems more likely that this would happen in that film. Captain America recruiting former ne'er-do-well Ant-Man to join The Avengers, only to use him in the service of breaking a prisoner out of jail, seems like a perfect way to bring Scott Lang into the larger Avengers fold.
Of course, it's worth taking all these rumours with a large grain of salt – Marvel is well known for its constant story revisions, and the source for these rumours was anonymous and seemingly unverified. Still, they all seem relatively plausible, and the confirmation of these characters appearances in future marvel films – long before such casting was announced – lends them credibility.
That's all folks, hope you have now fulfilled your Marvel news cravings! But be sure to check in next week for more news about Marvel!
PEACE!!